NEXT UP FROM Virtual FOGcon!
We'll be talking with owners of small presses, and with authors who have experience of self-publishing to give writers - and readers - alternatives to traditional large publishing. The discussion will be moderated by FOGcon's own Wendy Shaffer
Here's our amazing panel:
Self-published/ hybrid authors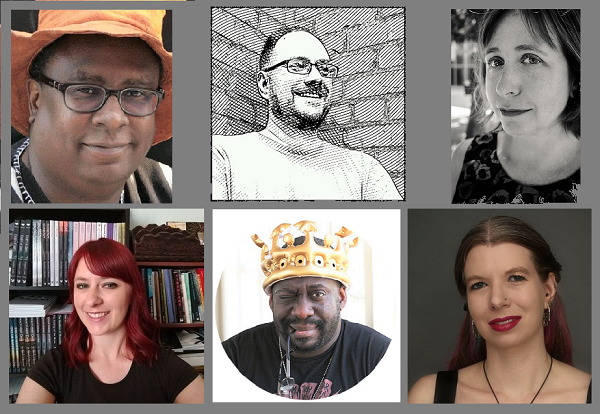 ALL THE BIOS!
SARENA ULIBARRI attended the Clarion Workshop in 2014, and earned an MFA from the University of Colorado, Boulder. Her fiction has appeared in magazines such as Lightspeed, DreamForge, and GigaNotoSaurus, and anthologies such as And Lately, The Sun and Biketopia: Feminist Bicycle Science Fiction Stories in Extreme Futures. She is the editor of two anthologies of optimistic climate fiction, Glass and Gardens: Solarpunk Summers (2018) and Glass and Gardens: Solarpunk Winters (2020), and was co-editor of Multispecies Cities: Solarpunk Urban Futures (2021). Since 2016, she has been Editor-in-Chief of World Weaver Press. Find more at www.SarenaUlibarri.com.
LIZ GORINSKY, President and Publisher of Erewhon Books. Liz started her editorial career at Tor Books, editing a list that included popular and acclaimed speculative fiction authors Mary Robinette Kowal, Liu Cixin, Annalee Newitz, Thomas Olde Heuvelt, Nisi Shawl, Catherynne M. Valente, and Jeff VanderMeer. Books she has edited have won or been nominated for all the field's major awards. She won the 2017 Hugo Award for Best Editor, Long Form, and the 2016 Alfie Award, designed and presented by George R. R. Martin. She was part of the team that founded Tor.com and acquired and edited short fiction and comics for that site for many years.
BILL CAMPBELL is the author of Sunshine Patriots, My Booty Novel, and the anti-racism satire, Koontown Killing Kaper. Along with Edward Austin Hall, he co-edited the groundbreaking anthology, Mothership: Tales from Afrofuturism and Beyond. He also co-edited Stories for Chip: A Tribute to Samuel R. Delany with Nisi Shawl, Future Fiction: New Dimensions in International Science Fiction and Fantasy with Francesco Verso, and APB: Artists against Police Brutality with Jason Rodriguez and John Jennings. His Afrofuturist spaceploitation graphic novel, Baaaad Muthaz (with David Brame and Damian Duffy) was released in 2019. His historical graphic novel with Bizhan Khodabandeh, The Day the Klan Came to Town, will be released by PM Press in 2021. Campbell lives in Washington, DC, where he spends his time with his family and helms Rosarium Publishing.
JAMES MAXEY's mother warned him comic books would warp his mind. She was right! Unsuited for decent work, James ekes out a living writing down his demented fantasies. His 20+ books include Dragon Apocalypse, Bitterwood, Nobody Gets the Girl, and There is No Wheel. In a portent of the end times, James was honored as the 2015 Piedmont Laureate. James lives in Hillsborough, North Carolina with his lovely and patient wife Cheryl and a couple of cats. To sign up for his newsletter, visit jamesmaxey.net. He can be found on Facebook by searching for the group Dragonsgate: The Worlds of James Maxey. Or, follow him on Twitter @JamesAllenMaxey.
Maxey began his career via traditional publishing, with his first novel Nobody Gets the Girl released in 2003. He went on to publish 8 more books through traditional channels, both with large publishing houses and small press. Around 2011, the tested out releasing some of this older novels with reverted rights as indy ebooks. He's gone on to release a over a dozen original releases through indy channels, using ebook, print, and audio to generate multiple revenue streams that simply weren't available back in 2003. In 2022, he'll be overseeing the launch of a new line of Middle Grade anthologies collecting the works of other authors through his Word Balloon Books imprint.
L.S. JOHNSON  lives in California with a spouse, a cat, and numerous goldfish. She is the author of the self-published Chase and Daniels quartet of gothic novellas and over 40 short stories. Her first self-published collection, Vacui Magia, won the North Street Book Prize and was a finalist for the World Fantasy Award. Her second, Rare Birds, was an IPPY medalist and made the preliminary ballot of the Stoker Awards. Her vampire serial, Prima Materia, is happening now at primamateria.online.  She adds: "Too, I worked in publishing—specifically as a production/art manager—for eleven years, and I still freelance as a project manager, proofreader, and indexer. I like to keep my hand in! And lately I've been tabling at comic conventions, so I'm starting to get a feel for hand-selling as well."
AYIZE JAMA-EVERETT calls the Bay Area his home despite being born in New York City. He holds a Master's in Divinity, a Master's in Clinical Psychology, and a Master's in Fine Arts, Creative Writing. Jama-Everett has worked as a bartender, a translator, a drug and alcohol counselor, a stand-up comedian, a script doctor, a ghostwriter, a high school dean, a college professor, and for a brief time, a distiller of spirits.
In 2009, Jama-Everett self-published The Liminal People, which was later picked up and distributed by Small Beer Press. He's written two more books in the series, The Liminal War (2015) and The Entropy of Bones (2015). The fourth and final installment in The Liminal Series is forthcoming from Small Beer Press. Jama-Everett has also written a graphic novel entitled Box of Bones with two-time Eisner Award winner John Jennings. Box of Bones is published by Rosarium Press and more installments are forthcoming.
His work has been written of favorably in The New York Times, the Los Angeles Review of Books, and received starred reviews in Kirkus. Jama Everett was the featured Honored Guest at the 2017 FOGcon and been a featured panelist at Bookriot.
His books defy easy categorization but hold to what he considers the "veracity of fiction's ability to expose the human condition." In his novels, the reader will find science fiction, romance, action, spirituality, and philosophical questions with uncomfortable answers."