FOGcon Virtual Events, 2021 and 2022

Virtual Panel Discussion:
"Small Press and Self-Publishing"
December 12, 2021 - 5-7.30 pm Pacific Time
NEXT UP FROM FOGcon! We'll be talking with owners of small presses, and with authors who have experience of self-publishing to give writers - and readers - alternatives to traditional large publishing.
Here's our amazing panel:
Liz Gorinsky of Erewhon Books;
Bill Campbell of Rosarium Publishing;
Sarena Ulibarri of World Weaver Press.
Self-published/ hybrid authors L.S. Johnson, James Maxey, and Ayize Jama-Everett
The discussion will be moderated by FOGcon's own Wendy Shaffer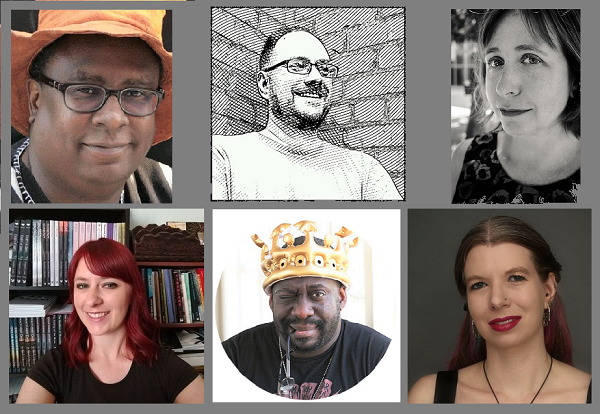 _______________________________
Updates on FOGcon's Future Plans
Hello, loyal FOGcon friends! All of us on the ConCom hope you're doing as well as possible. We've enjoyed the opportunity to see some of your faces during this year's FOGcon Virtual Events, and we look forward to more of that in the months ahead.

Unfortunately, we will not hold a hotel FOGcon in 2022, due to the uncertainties regarding the pandemic. Instead, what we're planning is a Series of Virtual Events. We expect to have more Authors Read! events, panel discussions, socials, and our usual small group Writing Workshops led by published authors. Subscribe to our FOGhorn newsletter (if you haven't already done so) to stay informed. We hope to bring back the hotel con we know and love in March 2023. Stay tuned!
Please Subscribe to the FOGhorn newsletter if you want to attend FOGcon events; there will be Eventbrite invitations for most of them. You'll also receive updates, including exclusive social events only for subscribers.
Most FOGcon Virtual Events are free, with the help of your donations! You can also help FOGcon by submitting ideas for future events or volunteering to help plan or run events.
---
FOGcon ON THE WEB
Facebook: https://www.facebook.com/groups/266502209488/
Twitter: http://twitter.com/Fogconvention
Sign up for the FOGcon newsletter: http://eepurl.com/dKFbso