Learn more about FOGcon's rates and membership levels.
FOGcon 8
Dates: March 9-11, 2018
Location: San Francisco Bay Area at the Walnut Creek Marriott (same as FOGcon 2 - 7)
Theme: Performance in SF&F
Honored Guests
Andrea Hairston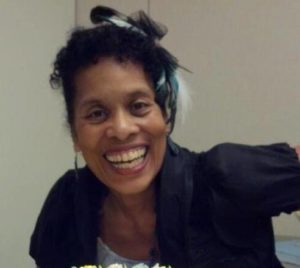 Andrea Hairston is a novelist, essayist, playwright, and the Artistic Director of Chrysalis Theatre. Her plays have been produced at Yale Rep, Rites and Reason, the Kennedy Center, StageWest, and on Public Radio and Television. She has translated plays by Michael Ende and Kaca Celan from German to English. Ms. Hairston has received many playwriting and directing awards, including a National Endowment for the Arts Grant to Playwrights, a Rockefeller/NEA Grant for New Works, an NEA grant to work as dramaturge/director with playwright Pearl Cleage, a Ford Foundation Grant to collaborate with Senegalese Master Drummer Massamba Diop, and a Shubert Fellowship for Playwriting. Since 1997, her plays produced by Chrysalis Theatre, Soul Repairs, Lonely Stardust, Hummingbird Flying Backward, and Dispatches have been science fiction plays. Archangels of Funk, a sci-fi theatre jam, garnered her a Massachusetts Cultural Council Fellowship for 2003.
Ms. Hairston's novels include: Redwood and Wildfire, winner of the 2011 Tiptree Award and the Carl Brandon Kindred Award and Mindscape, shortlisted for the Phillip K Dick and Tiptree Awards, and winner of the Carl Brandon Parallax Award. Both novels were published by Aqueduct Press.
In her spare time she is the Louise Wolff Kahn 1931 Professor of Theatre and Afro-American Studies at Smith College. She has received the International Association of the Fantastic in the Arts Distinguished Scholarship Award for outstanding contributions to the criticism of the fantastic.
Lonely Stardust, a collection of essays and plays, was published by Aqueduct Press in 2014. Her latest play, Thunderbird at the Next World Theatre, was published in Geek Theater—an anthology of science fiction and fantasy plays in 2014 by Underwords Press.
She bikes at night year round, meeting bears, multi-legged creatures of light and breath, and the occasional shooting star.
Ada Palmer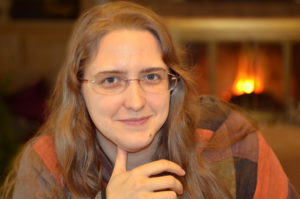 Ada Palmer's first science fiction novels Too Like the Lightning and Seven Surrenders (volumes one and two of Terra Ignota, from Tor Books) explore how humanity's cultural and historical legacies might evolve in a future of borderless nations and globally commixing populations. She teaches in the University of Chicago History Department, studying the Renaissance, Enlightenment, classical reception, the history of books, publication and reading, and the history of philosophy, heresy, science and atheism, and is the author of Reading Lucretius in the Renaissance (Harvard University Press). She often researches in Italy, usually in Florence or at the Vatican. She composes fantasy, SF and mythology-themed music, including the Viking mythology musical stage play Sundown: Whispers of Ragnarok (available on CD and DVD), and often performs at conventions with her vocal group Sassafrass. She also researches anime/manga, especially Osamu Tezuka, early post-WWII manga and gender in manga, and has worked as a consultant for many anime and manga publishers. She blogs for Tor.com, and writes the philosophy & travel blog ExUrbe.com.
Honored Ghost: Thomas M. Disch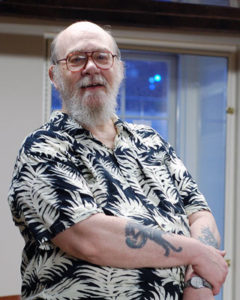 Thomas M. Disch was an American science fiction author and poet. He won the Hugo Award for Best Related Book in 1999, and he had two other Hugo nominations and nine Nebula Award nominations to his credit, plus one win of the John W. Campbell Memorial Award, a Rhysling Award, and two Seiun Awards, among others.
In the 1960s, his work began appearing in science-fiction magazines. His critically acclaimed science fiction novels, The Genocides, Camp Concentration, 334 and On Wings of Song are major contributions to the New Wave science fiction movement. In 1996, his book The Castle of Indolence: On Poetry, Poets, and Poetasters was nominated for the National Book Critics Circle Award,[4] and in 1999, Disch won the Nonfiction Hugo for The Dreams Our Stuff Is Made Of, a meditation on the impact of science fiction on our culture, as well as the Michael Braude Award for Light Verse. Among his other nonfiction work, he wrote theatre and opera criticism for The New York Times, The Nation, and other periodicals. He also published several volumes of poetry as Tom Disch.
---
---
FOGcon ON THE WEB
Facebook: http://www.facebook.com/group.php?gid=266502209488
LiveJournal: http://community.livejournal.com/fogcon/
Dreamwidth: http://fogcon.dreamwidth.org/
Twitter: http://twitter.com/Fogconvention
Sign up for the FOGcon newsletter: fogconnews+subscribe@googlegroups.com