[SORRY - WE HAVE HAD TO CANCEL THS EVENT. WE HOPE TO BRING IT BACK ANOTHER TIME.]
The next virtual (Zoom) event - "Speculative Short Fiction: Finding Markets and Communities, Understanding Industry Standards and Contracts" - is slated for September 24th, 4.30 pm Pacific Time. It's a presentation from The Two Hour Transport team: Nicole Bade, Ramona Ridgewell and Elly Bangs. It's aimed at authors looking to get short stories published. The presentation will be followed by a question period, and of course our usual breakout rooms for FOGcon folk to hang out and chat. Hope to see all you writers!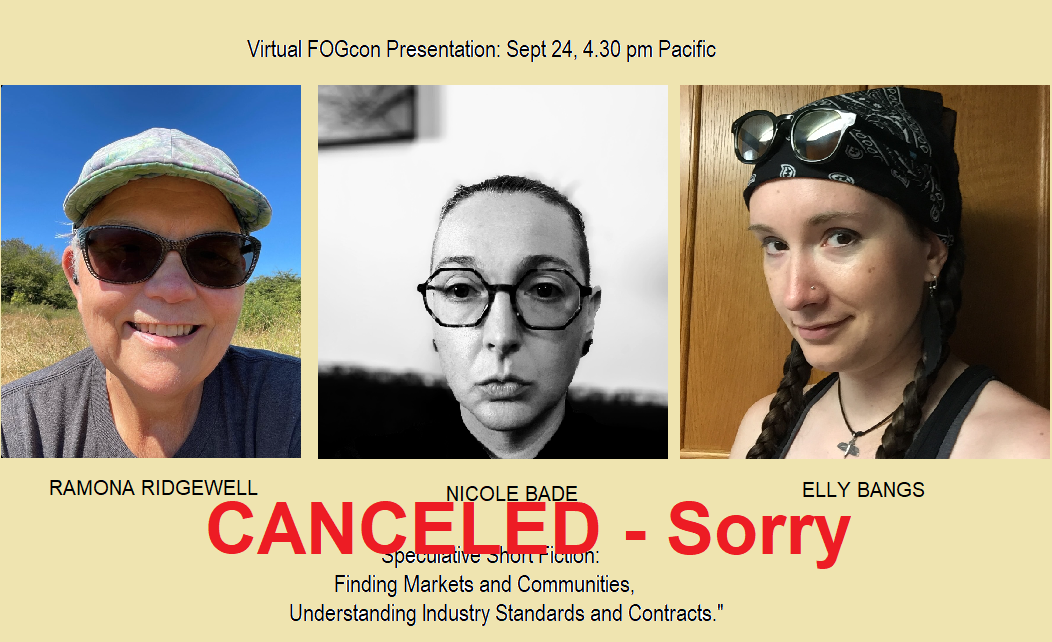 "TWO HOUR TRANSPORT" is a monthly SF/F/H reading series with one hour of open mic and one hour of content from featured readers. They are currently virtual and welcome writers from all over the world. Read more about Two Hour Transport at twohourtransport.wordpress.com or on Facebook at facebook.com/twohourtransport and join them some time if you're interested!
NICOLE BADE (they/them) is a queer & non-binary speculative fiction writer, and one of four co-currators of "Two Hour Transport". They have an MFA from Goddard College and you can find their short fiction in Fireside Magazine and Reckoning 6.
RAMONA RIDGEWELL (she/her): Besides writing dystopian flash fiction and not-yet-published epic vampire novels, Ramona Ridgewell spends her days tapping on a keyboard to create pretty software. She also seeks out adventures near and far; lures melodies from her piano, guitar and vocal chords; and experiments with combinations of edible ingredients. Although no furries currently share her home, crows from the neighborhood murder follow her own walks and drop little gifts to gain her affection. Her current novel-in-progress follows a Seattle vampire as he deals with the pandemic on top of his normal housing and job insecurities. A proud member of Dreamcrashers, she thrives in the Two Hour Transport community.
ELLY BANGS (she/her) is an SFF novelist and short story author. Her debut apocalyptic cyberpunk novel, Unity, came out in Spring 2021 from Tachyon Publications. Her short fiction has appeared in Lightspeed Magazine, Clarkesworld Magazine, Beneath Ceasless Skies, and elsewhere. She's a SFWA member and a 2017 graduate of Clarion West, and she lives with her partner and cat in Seattle.