Here comes the next exciting Virtual FOGcon event:
Authors Read! Featuring Nisi Shawl and Karen Joy Fowler!
It'll be on Zoom on April 30, from 5-7.30 pm Pacific time. Save the date and watch this space for more details.
Please register for this FREE event on Eventbrite at: https://www.eventbrite.com/e/fogcon-authors-read-featuring-nisi-shawl-and-karen-joy-fowler-tickets-308369701077
We will also have Rapid Reads! interspersed.
Scroll down for all the bios!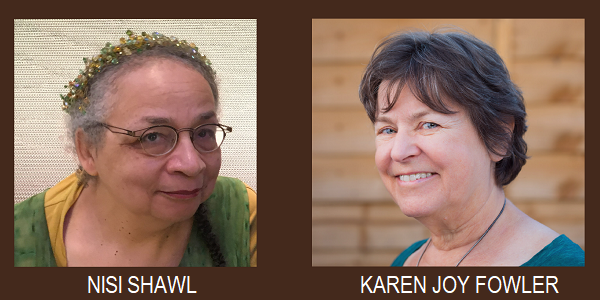 KAREN JOY FOWLER is the New York Times bestselling author of six novels and three short story collections. Her 2004 novel, The Jane Austen Book Club, spent thirteen weeks on the New York Times bestsellers list and was a New York Times Notable Book. Fowler's previous novel, Sister Noon, was a finalist for the 2001 PEN/Faulkner Award for fiction. Her debut novel, Sarah Canary, won the Commonwealth medal for best first novel by a Californian, was listed for the Irish Times International Fiction Prize as well as the Bay Area Book Reviewers Prize, and was a New York Times Notable Book. Fowler's short story collection Black Glass won the World Fantasy Award in 1999, and her collection What I Didn't See won the World Fantasy Award in 2011. Her most recent novel We Are All Completely Beside Ourselves, won the 2014 PEN/Faulkner Award for fiction and was short-listed for the 2014 Man Booker Prize. Her new novel Booth was published in March 2022.
She is the co-founder of the Otherwise Award and the current president of the Clarion Foundation (also known as Clarion San Diego). Fowler and her husband, who have two grown children and seven grandchildren, live in Santa Cruz, California. Fowler also supports a chimp named Caesar who lives at the Tacugama Chimpanzee Sanctuary in Sierra Leone.
NISI SHAWL was FOGcon's 2020 Honored Guest.  They are best known for fiction dealing with gender, race, and colonialism, including the 2016 Nebula finalist novel Everfair, an alternate history of the Congo.  They're the coauthor of Writing the Other: A Practical Approach, a standard text on inclusive representation, and a cofounder of the Carl Brandon Society.  Their criticism and essays appear widely, in one case as an introduction to a volume of the Library of America.
Shawl edited and co-edited Strange Matings: Science Fiction, Feminism, African American Voices, and Octavia E. Butler; Stories for Chip: A Tribute to Samuel R. Delany; and New Suns: Speculative Fiction by People of Color.  Their debut story collection, Filter House, co-won the 2008 James Tiptree, Jr./Otherwise Award.  Additional awards include the World Fantasy Award, two Locus Awards, and FIYAH Magazine's Ignyte Award.  A new story collection, Fruiting Bodies, is forthcoming from this autumn from Aqueduct Press.  A first Middle Grade novel, Speculation, is forthcoming in January 2023 from Lee & Low.  Shawl lives in Seattle, just one block away from a beautiful, dangerous lake full of currents and millionaires.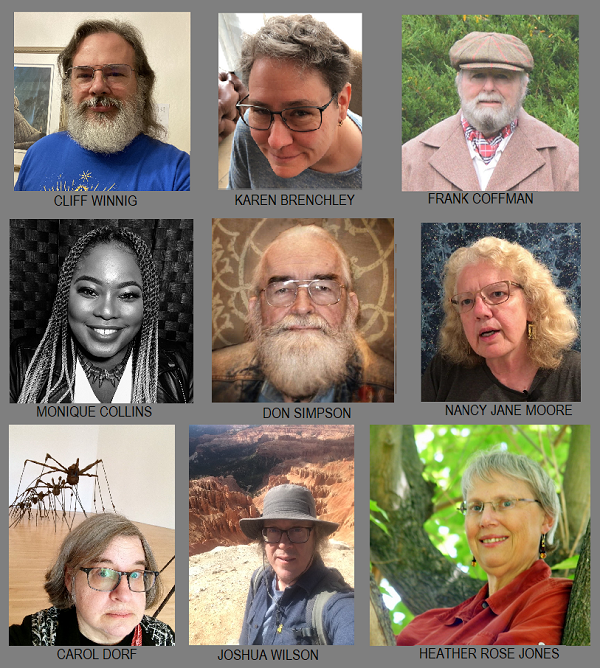 CLIFF WINNIG has stories in the Baen anthology Straight Outta Deadwood, the Escape Pod podcast, and elsewhere. He has works in the forthcoming High Noon on Proxima Centauri b (also Baen) and in the Many-Worlds shared universe created by Cadwell Turnbull. He's a graduate of the Clarion Science Fiction and Fantasy Writers' Workshop — where he studied with, among others, Karen Joy Fowler — and a past finalist in the Writers of the Future Contest. When not writing, Cliff plays sitar, studies aikido and tai chi, and does choral singing and social dance, including Argentine tango. He lives with his family in Silicon Valley, which constantly inspires him to think about the future. He can be found online at http://cliffwinnig.com.
KAREN BRENCHLEY's SF stories have appeared in various anthologies including Gears and Levers 2, and in Fantasy Magazine, Daily Science Fiction, and ParSec. She is a second degree black belt in aikido, was featured in a Washington Post article about testing autonomous cars, and founded the long-running San Francisco reading series SF in SF with Terry Bisson. She lives in Silicon Valley with her husband Chaz Brenchley, a British cat and an American turtle. See more at http://karenbrenchley.com.
FRANK COFFMAN is a retired professor of English, Creative Writing, and Journalism. He has published speculative poetry and fiction in a variety of journals, magazines, anthologies, and collections. He has published three collections of his verse: The Coven's Hornbook& Other Poems, Black Flames & Gleaming Shadows, and Eclipse of the Moon. His fiction collection, Three Against the Dark: Collected Dr. Venn Occult Detective Mysteries was recently published. He selected and edited Robert E. Howard: Selected Poems. A member of the HWA and the SFPA, he moderates the Weird Poets Society Facebook group. He is a formalist poet; a specialized sonneteer.
NANCY JANE MOORE is the author of the 2021 fantasy novel For the Good of the Realm and the 2015 science fiction novel The Weave, along with a number of short stories and novellas. A native Texan who lived in Washington DC for many years, she now lives with her sweetheart in Oakland, California, where she is well-known to the neighborhood crows. She blogs on Fridays at https://treehousewriters.com/. Follow her on twitter at @WriterNancyJane
CAROL DORF is a Zoeglossia fellow, whose interests include the interconnections between poetry, disability, and science. Her writing has been published in three chapbooks, and in journals that include "Aybss and Apex," "Unlikely Stories," "About Place," "Slipstream," "The Journal of Humanistic Mathematics," "Scientific American," and "Maintenant." She is founding poetry editor of Talking Writing, and taught math in Berkeley.
JOSHUA WILSON is an editor and writer in San Francisco, and the publisher of The Fabulist Magazine, www.fabulistmagazine.com. You can find him riding around various Bay Area bicycle trails, and occasionally on Twitter: @MrJoshuaWilson.
HEATHER ROSE JONES writes historic fantasy and fiction focusing on queer female characters, including the 2022 novella "The Language of Roses" from Queen of Swords Press and the Alpennia series from Bella Books. Her short fiction has appeared in The Chronicles of the Holy Grail, Sword and Sorceress, Lace and Blade, and at Podcastle.org. She blogs and podcasts about queer women in history and historical fiction at the Lesbian Historic Motif Project. Heather works as an industrial failure investigator in biotech pharmaceuticals and enjoys gardening and bicycling. Website: alpennia.com, twitter @heatherosejones
DON SIMPSON writes: "Born between world wars, I grew up in small country towns, was in the Army in the 60s; afterwards, for several decades, I made my living as a research and development technician (mostly electronic and mechanical, some computer gaming) while doing artwork when I could; now I get to be an artist full time.  I have always been interested in art and science, and I found my community in science fiction fandom. While I have displayed and sold sold my visual art, I have only shared my word art at small gatherings." Visual Art: https://deviantart.com/donsimpson , Text Art: https://deviantart.com/frostpuma "
MONIQUE COLLINS is a Gullah-Geechee middle child from South Carolina. She grew up fighting monsters with Xena the Warrior Princess and writing speculative stories on old, dusty computers her father found around their city like buried treasure. She loves books with strong female leads, fantastical cultures, and complicated romances. Her favorite places to write include boat docks and hippie camping trips. She graduated with an English degree from Wofford College and an MFA in Popular Fiction Writing and Publishing from Emerson College. Monique is currently an M.Ed. candidate for Educational Leadership. She is the founder of Afronauts Podcast. Monique lived in Eastern Europe for over two years, serving as a Peace Corps Volunteer in North Macedonia. Now, she's in America with her eclectic family. As a high school English teacher and writer, she believes that books can empower generations. Website: https://www.moniquejcollins.com
We're expecting a great event with this line-up!