Learn more about FOGcon's rates and membership levels.
FOGcon 7
Dates: March 10-12, 2017
Location: San Francisco Bay Area at the Walnut Creek Marriott (same as FOGcon 2 - 6)
Theme: Interstitial Spaces
"Interstitiality is a theme which is simultaneously genuinely interesting and potentially quite useful, and also a terrible cliché, so if you're going to use it, it helps to be at least respectfully skeptical about the wilder claims of some of its theoretical partisans, I think. "
--China Miéville, on The City & the City
---
---
Honored Guests
Delia Sherman
Delia Sherman is both a writer and an editor, as well as having been a book reviewer, lecturer, and teacher. Her novel The Porcelain Dove won the Mythopoeic Fantasy Award for Adult Literature in 1994, and she won the Mythopoeic Fantasy Award for Children's Literature in 2012 with The Freedom Maze, which also won the Prometheus Award and the Andre Norton Award that year. She is an active part of the Interstitial Art movement, and was the first president of the Interstitial Arts Foundation. For more on Interstitial Arts, please see https://en.wikipedia.org/wiki/Interstitial_art or http://www.interstitialarts.org/
---
---
Ayize Jama-Everett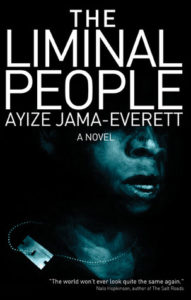 Ayize Jama-Everett is the author of the Liminal Trilogy, consisting of The Liminal People, The Liminal War, and The Entropy of Bones. His writing resists categorization, carrying a vitality -- and strangeness -- that has been described as highly appealing; he sees his writing as a way to bring forward people and cultures who are not often represented. "There's a big wound in not being seen, in having your reality not being represented in any way."
Born in Harlem, Jama-Everett is now based in Oakland; he has lived in New Hampshire, France, and Morocco, and he has traveled across North Africa, Asia, and Mexico. He earned a Master of Divinity and a masters' degree in clinical psychology from the Graduate Theological Union and the New College of California,. In addition to writing has worked as a therapist and a teacher. This year he's working with artist John Jennings to develop Box of Bones, a comics project unrelated to the Liminal People universe.
---
---
Honored Ghost: Iain [M.] Banks
Iain [Menzies] Banks was born in Fife in 1954, and was educated at Stirling University, where he studied English Literature, Philosophy and Psychology. He came to widespread and controversial public notice with the publication of his first novel, The Wasp Factory, in 1984. His first science fiction novel, Consider Phlebas, was published in 1987. He has continued to write both mainstream fiction (as Iain Banks) and science fiction (as Iain M. Banks).
He is now acclaimed as one of the most powerful, innovative, and exciting writers of his generation: The Guardian has called him "the standard by which the rest of SF is judged." William Gibson, the New York Times-bestselling author of Spook Country describes Banks as a "phenomenon." (from his official publisher's site at http://www.iain-banks.net/)
---
---
FOGcon ON THE WEB
Facebook: http://www.facebook.com/group.php?gid=266502209488
LiveJournal: http://community.livejournal.com/fogcon/
Dreamwidth: http://fogcon.dreamwidth.org/
Twitter: http://twitter.com/Fogconvention
Sign up for the FOGcon newsletter: fogconnews+subscribe@googlegroups.com