FOGcon 2013: Law, Order, & Crime
Dates: March 8-10, 2013
Location: Walnut Creek Marriott (same as FOGcon2)
Honored Guests: Terry Bisson, Susan R. Matthews, and the Late Anthony Boucher
Terry Bisson
Terry Bisson is an award-winning author of novels, screenplays, comics, nonfiction, and short stories. His novel Any Day Now, just out  in paperback, starts with the 1960s we know and moves into a brilliant alternate history. His short story "Bears Discover Fire" swept the Hugo Award, Nebula Award, Theodore Sturgeon Award, SF Chronicle Reader Award, Locus Award, and Asimov's Reader Award. It was also nominated for the 1991 World Fantasy Award and HOMer award. These days he hosts a monthly author reading series in San Francisco (SFinSF) and edits the Outspoken Author series for PM Books. Terry Bisson has always been passionately concerned with the relationship between the individual and the state. His most recent story collections (TVA Baby and Greetings and Other Stories) feature title stories that examine the nature and meaning of crime.
Susan R. Matthews
A self-described army brat (she was born in a barracks in Fort Benning), Susan R. Matthews had an international upbringing, living and attending school across the country and in Europe and India. After earning an undergraduate degree in psychology, she was commissioned into the United States Army and served as the operations and security officer of a combat support hospital, functioning in addition as the unit's NBC (nuclear, biological, and chemical warfare) officer. She was the 1998 Philip K. Dick Award Nominee and 1998, 1999 John Campbell Award Nominee—Best New SF Writer. Her background in psychology and her military and medical experiences all inform her fiction. Susan R. Matthews is best known for her novels set in the Jurisdiction universe, where the government responds to civil unrest and revolt with legally sanctioned torture of political prisoners.

Anthony Boucher (Posthumous)
Anthony Boucher (1911 – 1968) distinguished himself as an author, translator, critic, and editor in both mystery and speculative fiction. He was a founding editor of The Magazine of Fantasy and Science Fiction and won two Hugo Awards for best professional magazine. He made the first English translations of the writing of Jorge Luis Borges. His sharp, brilliant SF/F and mystery stories have long been recognized as gems of the genre; "The Quest for Saint Aquin" was included in the Science Fiction Hall of Fame, Vol. 1. A dedicated Sherlockian, he also wrote scripts for Sherlock Holmes radio plays.
Theme: Law, Order, and Crime
New times create new crimes.
As societies change, both law and crime evolve, and punishment changes as well. Advances in technology (or the workings of magic) make possible crimes that we could never have predicted, methods of crimefighting unforeseen, prisons unlike any we have now. If a dragon is a citizen, are they allowed to eat people? How do you imprison a telepath? How does a civilization of teleporters keep from descending into anarchy? What rights do aliens or androids have? How can vast empires covering many lightyears maintain some sort of order?
The implications are much broader than the basic question of whodunnit. We are currently seeing major shifts in the balance between the individual and the state, privacy and convenience, freedom and security.
Speculative fiction has always explored questions like these, and the results have been some of our finest fictions. At FOGcon 3, we're going to be discussing those questions and possible answers for our own future.
Registration
Adult Memberships
$75 (Nov. 15 – Jan. 31)
$85 (Feb. 1 – Con)
Supporting Membership
$35
Youth Membership
$20
At-the-door day rates will be posted at a later date.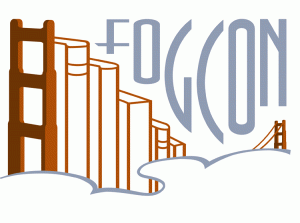 What Is FOGcon?
Friends of the Genre (FOGcon) is a literary-themed San Francisco Bay Area SF/F con in the tradition of Wiscon. Each year we focus on a new theme in speculative fiction and invite Honored Guests ranging from writers to scientists to artists. We build community, exchange ideas, and share our love for the literature of imagination.
FOGcon is a project done jointly by Friends of Genre and the Speculative Literature Foundation.
Genre Fiction
The definition is "genre" in fiction is as loose and baggy as the form of the novel. It can refer to setting (Western), intended audience (children's or young adult fiction), subject (murder mystery), writing style (literary fiction), time period (historical fiction), or emotion evoked (horror, romance). Every genre has its own rules, traditions, ideas, and stock characters that the reader will expect to find. The reader enjoys the author's skill in combining the familiar elements of the form with fresh ideas, unexpected twists, unusual insights, and evocative language.
All these and many more genres of modern prose fiction fall into two basic categories:
Realistic fiction, which places (usually) imaginary characters in recognizably true-to-life settings.
Speculative fiction, which places its characters in settings that are in some way counterfactual, and that difference from what we usually call "real life" is the driving engine of the plot. Perhaps all but one of a world's unicorns have disappeared. Perhaps there's a planet where human beings are almost all hermaphrodites. Perhaps the Roman empire is still going strong in the fifteenth century. What happens then?
Speculative fiction, what we are calling the Literature of the Imagination, answers that question, and in exploring small differences illuminates our common humanity.
FOGCON ON THE WEB
Facebook: http://www.facebook.com/group.php?gid=266502209488
LiveJournal: http://community.livejournal.com/fogcon/
Dreamwidth: http://fogcon.dreamwidth.org/
Twitter: http://twitter.com/Fogconvention