Writing Workshop Sign-ups Open!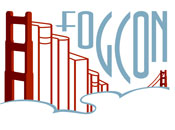 Got a broken short story that you just can't fix or a NaNoWriMo manuscript that desperately needs feedback? Consider participating in FOGcon's Writing Workshop. Sign-ups opened on November 15th, and the first two sign-ups came in the day we opened!
The Writing Workshop divides registered participants into groups of 3-4 for a Clarion-style critique led by a published volunteer author. If you think you'll be coming to FOGcon 6 and would like to join the Writers' Workshop, email us at workshop@fogcon.org to let us know. The workshop has increased in popularity over the years, and many participants and instructors return. Though we're looking to expand the number of spots available this year, we still have a limited number of openings. Sign-ups officially close by January 31 when the manuscripts are due, but the workshop spaces often fill up well before that. Sign-up early so you don't miss out!
We don't set any experience requirements; however, participants under 18 will need to provide parental approval because they could encounter work aimed for an adult audience.
In order to expand the number of spots available and to give the groups ample critique time, workshops this year will be scheduled for Sunday afternoon from 2.30 p.m to 5 p.m. This has three benefits: We'll be able to expand the number of available workshop spaces, which increases the number of open slots without over-filling the groups; the workshops can run longer than they have in the past; and the workshops won't clash with programming so participants don't miss events they'd like to attend.
Here's how it works. Participating writers will turn in their manuscripts by email about six weeks in advance of the convention—for FOGcon 6, the deadline is January 31st, 2016. The writers will be split into subgroups of 3-4 participants. The workshop organizer will share emails and manuscripts within each subgroup and forward all manuscripts and emails to the volunteer professional author moderating the subgroup. Participants will read and provide written critique (by hand or electronic) for all the manuscripts in their subgroup. The subgroups will meet on Sunday afternoon at the Con and each participant—and the moderator—will give both written and verbal feedback to the other participant.
The workshop fee is $20. Sign-ups are open now and will close when all spaces are filled, or on January 31, whichever comes first. Email email us at workshop@fogcon.org to register.
For more information on the workshop and helpful guides for how to give and take critique, visit our Writing Workshop page.
Please follow and like us: